In the early morning hours of June 3, 2019 thirty-six-year-old Montrell Jermaine Alexander was taken to the Al Cannon Detention Center on a triad of new drug offenses including Possession with the Intent to Distribute Cocaine, Possession of MDMA and Attempted Possession of Controlled Substances.
A total bond amount was tallied at $20,600 with an underlying failed court appearance by way of a Driving Under Suspension Third and Subsequent charge from August 2018 in Mount Pleasant.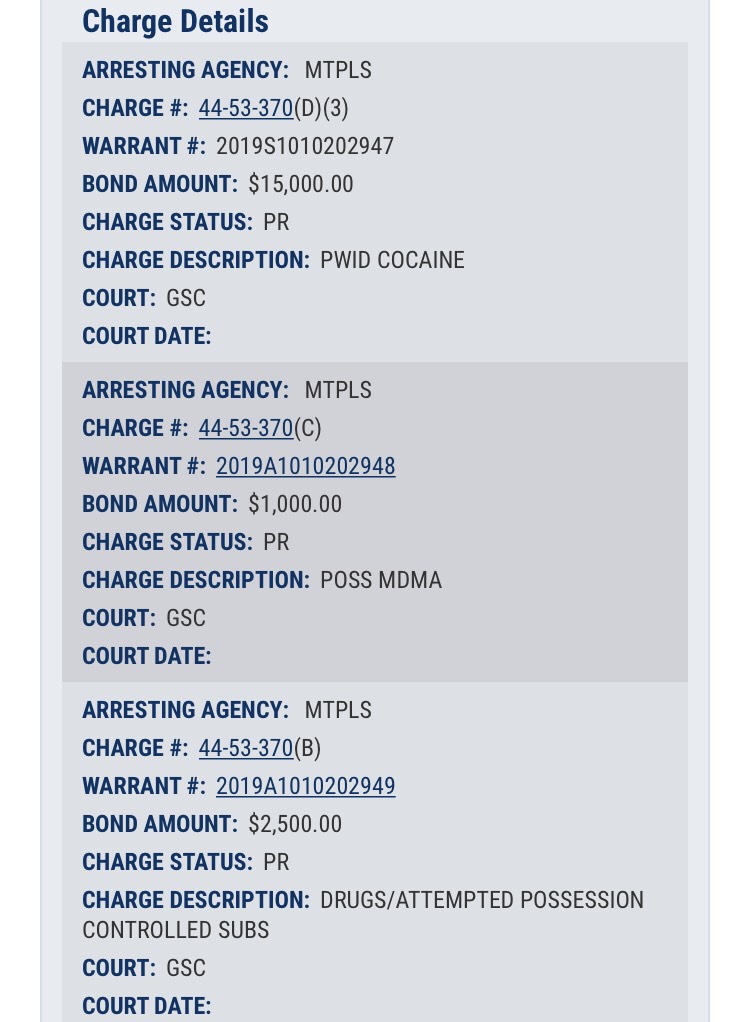 Mr. Alexander's criminal record in Charleston County began in late January 2005 for a charge of Possession of Cocaine. He pleaded guilty less than two months later.
The trend continued in late 2008 with a misdemeanor Shoplifting offense. He spent two months behind bars before ultimately being released on bond. A year later, Mr. Alexander would again receive the same fate — this time for failing to appear for the same charge.
On June 28, 2010, Mr. Alexander was booked on a string of drug offenses coupled with a Failure to Pay Child Support charge. Of these newly accumulated charges, PWID Marijuana and Dist. of a Controlled Substance — both in the proximity to a school — stand out among the lot.
As time progressed, Mr. Alexander's record continued to catapult downward with four additional drug charges less than nine months later in March 2011. And more arrests soon followed but ceased during a four year period between 2012 and 2016.
From 2016 and onward, two Driving Under Suspension arrests lead to his most recent arrest coming in June 2019. But Magistrate Amy J. Mikell continued with her decision to grant Mr. Alexander personal recognizance bond on three out of his four charges.
Treading down a path devoid of prudent and sound decision making by Lowcountry courts will do little to increase the lowly level of accountability provided to Charleston's seasoned criminals.
Take Action
Have you grown weary of witnessing the erosion of the Holy City's ethos without being able to express your discontentment to those responsible? Worry not: Follow this link and pledge to local lawmakers and elected officials that enough is enough.