Michael Lee Morris II of Ravenel, South Carolina, currently resides at the Al Cannon Detention Center after an arrest stemming from two bench warrants for failing to appear, and two new drug charges: Possession One Gram of Methamphetamine or Cocaine Base Second Offense and Possession of Controlled Substance Schedule I-V.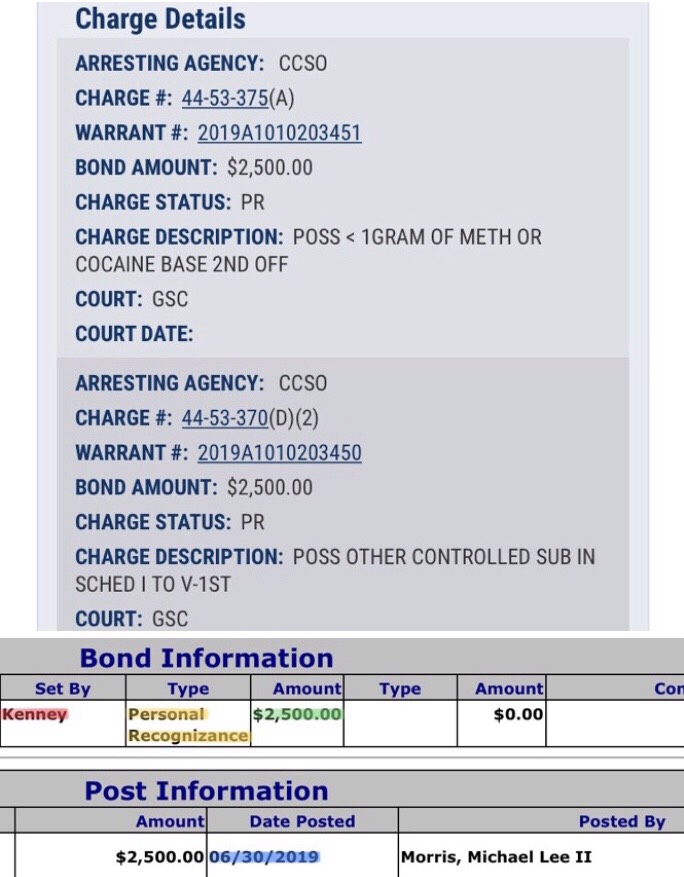 Shortly after Mr. Morris's arrest, Magistrate John C. Kenney of the Centralized Bond Hearing Court granted him personal recognizance bond for the above two charges–despite bench warrants current and former. Prior to the events of his most recent arrest, a bench warrant from Dorchester County was issued early December 2018 relating to a Shoplifting charge.
Michael Morris has a criminal record stretching back to 2001 when he was first arrested in Charleston County for a charge of Public Disorderly Conduct–which he pleaded guilty to at a later date. And he was found guilty of an Obtaining Signature by False Pretenses charge in 2003.
He soon made a significant jump to a higher level of criminal activity two years later when he was jailed in January 2005 on a count of Assault with the Intent to Kill. The charge was ultimately dismissed. But Mr. Morris pleaded guilty to charges of Burglary and Grand Larceny in Dorchester County nearly one year earlier.
Relating to his most recent arrest, the newly minted charge of Possession of a Controlled Substance Schedule I-V has been earned on two different occasions covering his rap sheet–in 2014, 2018 and now in 2019. And even though he doesn't have any violent crime convictions to speak of, his record should have been selected for a more studied approach–considering the length of it.
But Magistrate Kenney is prone to making poor decisions from the bench, with sidestepping being an active precept in determining the focus of his efforts inside the realm of who he encounters within the criminal justice system. And it is always us–the common people–who pay a price in despondency for such negligence.