Morton Waring Simmons, 43, was booked into the Al Cannon Detention Center on May 28, 2019 on a count of Petit Larceny $2,000 or Less. After a morning Bond Court appearance the following day, Mr. Simmons was given personal recognizance bond despite two separate and pending domestic violence charges earned within the past seven months.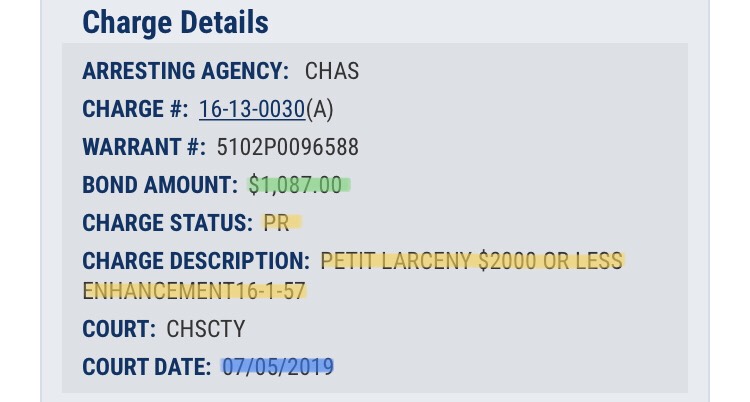 Mr. Simmons' history with domestic violence began in August 2017 with his third-ever arrest on a charge of Second Degree Domestic Violence, which remains in pending status awaiting adjudication.
In early June 2018, he was arrested on a new count of Domestic Violence Third Degree alongside four Violation of County Ordinance offenses. And on June 2, 2018 he was jailed on a fresh slate of charges — including Possession of Less Than one Gram of Ice/Crack Cocaine — and was released on personal recognizance bond on all counts with a bond amount originally set at $8,570.
Only one month following Mr. Simmons' previous arrest, he was jailed again for a Second Degree Domestic Violence charge. He was released on $5,000 bail. The arrest is also accompanied by a count of Assault and Battery Third Degree within the North Area Magistrate Court.
Marking his fourth arrest inclusive of a violent crime, Mr. Simmons was taken into custody and booked into Charleston County's Jail on a count of Domestic Violence Third Degree — his fourth domestic violence-related offense. And a Charleston Municipal Court Judge found him a suitable candidate deserving of personal recognizance bond.