On January 21st 2019, 33-year-old Keith Cavanagh Richardson was incarcerated at the Al Cannon Detention Center on a charge of DUI Third (Refused Blood Alcohol Test) that garnered a $10,824.50 bond amount before his visit to Bond Court the following morning. There, Judge John Kenney -- who has only three months experience on the bench -- released Richardson on personal recognizance bond and required him to participate in a Drug Treatment Program.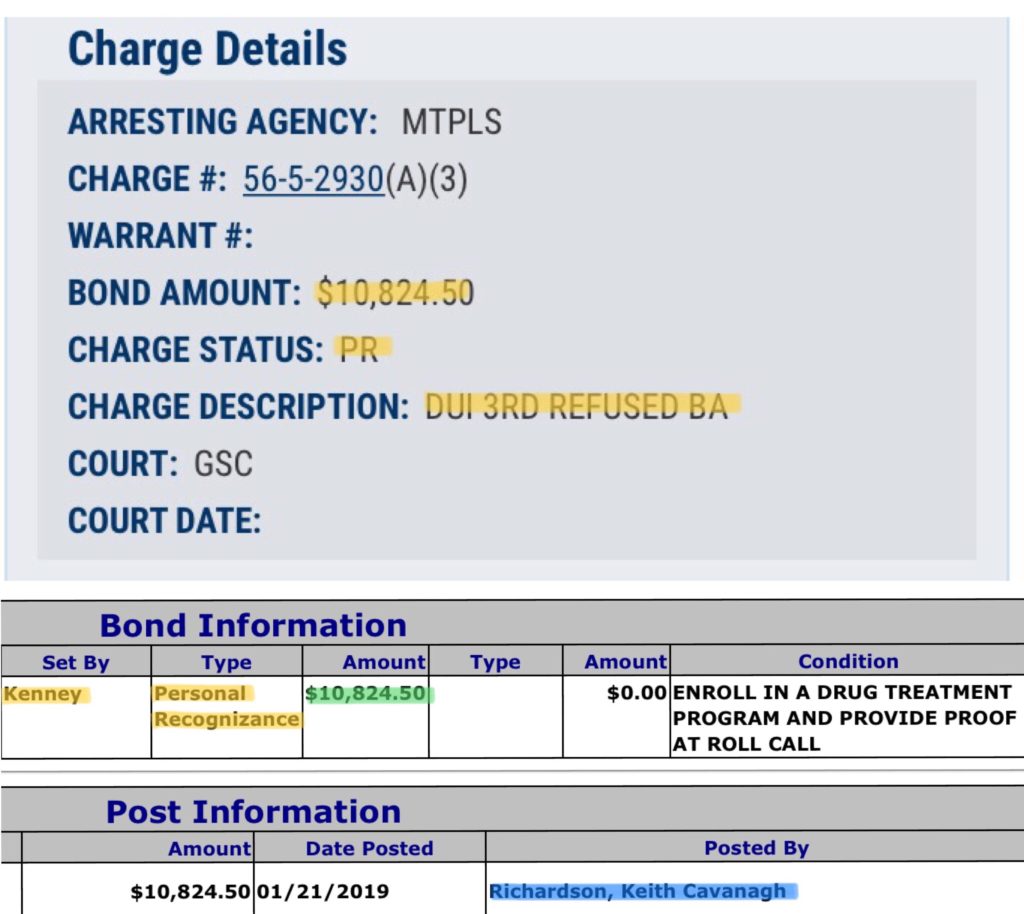 Generally, it would be widely condemned for a Judge to PR a man with three DUI offenses in his past, but Kenney did recommend Mr. Richardson to participate in a Drug Treatment program -- but nevertheless, a bond should have been posted. Because it is still possible for Kenney's motion to falter, and Richardson to be jailed a fourth time. Charleston Jail Watch sends its best wishes to Richardson as he embarks on a journey to sobriety.
A Look At The Background Of Judge Kenney
John Kenney is a former Special Agent and Resident Agent in Charge (RAIC) at the Secret Service. He was employed by the law enforcement agency for nearly thirty years, with notable service including an assignment to the Vice Presidential Protective Detail from April 1996 to April of 2000 under the Clinton administration. His promotion to RAIC at the Charleston Resident Office saw a supervision of over 700 federal cases, as he boasts each to have resulted in a guilty plea.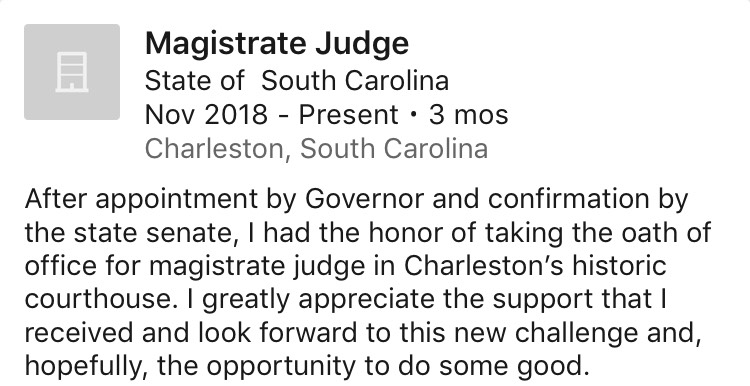 As noted in the image above, he was able to bypass a democratic election -- by the people -- to earn the approval of Governor Henry McMaster, and ultimately the SC State Senate. Kenney's governmental agency connections likely landed him immediate consideration for the judicial opening, far removed from the tedious process of soliciting support from the South Carolina electorate in an effort to increase voter turnout, as in Probate Court Judge elections. Kenney's LinkedIn page can be found here.
Our philosophy is simple -- provide, as a judge, a tenable commitment to an uphold of integrity, ethics and fair adjudication. Let not your judicial honesty be sacrificed for an agenda with its tactics laced in deceit, and its endeavors a carbon copy of an organization dedicated to a partisan agenda. Fight for free and honest elections of yourself and your constituents, with all of the best intentions held in the highest regard. Because without all of these components, your goals of good can only benefit one person -- yourself.