Tony Lee Brown is seasoned in criminal activity — with over thirty arrests filling his rap sheet — and was booked into the Al Cannon Detention Center a third time in 2019 alone following a recent encounter with Mount Pleasant Police.
Mr. Brown was jailed on the afternoon of May 21 on counts of Assault on a Police Officer while Resisting Arrest and Assault and Battery Third Degree — charges that earned personal recognizance bond by Magistrate Francis X. McCann of the James Island Magistrate Court.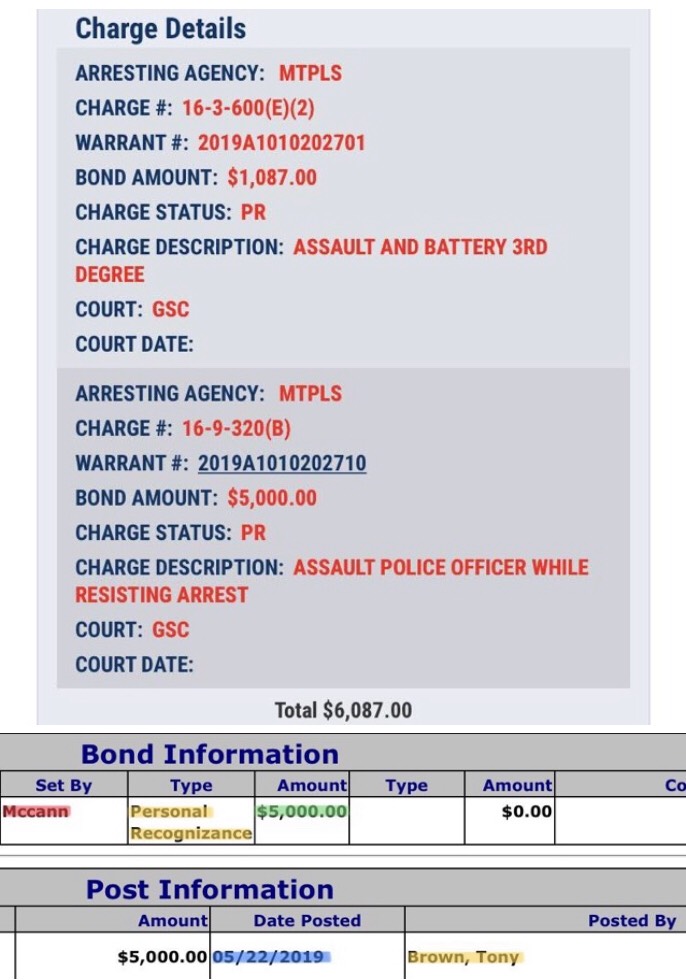 Tony Brown's criminal activity began in 1999 with an arrest on a count of Possession of Crack/Cocaine — a charge he plead guilty to in April the following year.
A string of arrests would follow him for the next two decades, with particular saturation in the early 2000's and towards the present date.
Mr. Brown has accumulated 12 guilty pleas or findings of guilt by Bench Trial on charges ranging from Possession of Cocaine in the Proximity to a School to Assault and Battery Third Degree (a crime that comprises his May 2019 arrest).
Criminal activity hasn't left Mr. Brown's behavioral apparatus, as he has visited the Detention Center on six occasions beginning in December 2018 for charges possessive of Strong Arm Robbery and Assault on a Police Officer while Resisting Arrest — both posting a combined $50,000 bail.
Despite the dispersing of personal recognizance bond to his most recent arrest, there are a handful that lead into the puzzling decision. Since May 2018, Mr. Brown has visited jail on fourteen occasions. And of this particular arrest responsible for a continuum of those to follow, he was provided freedom on a charge of Possession of Cocaine.
Nine days after the incident, he was arrested again — this time on a count of Assault and Battery Third Degree — and was given an additional PR bond within the Charleston City Municipal Court. And in only two months, Mr. Brown would be granted immunity again on another violent offense: Assault and Battery Second Degree.
Combined, Tony Brown has been gratuitously given bypass of cash bail six times over the course of the past year. What is worsening is that there is no indication that they have been useful in curbing the trend of his criminal behavior, or otherwise effective in achieving any related challenges.